Down Syndrome Awareness Month, what did we accomplish?
Well, we pitched into the Google war, battling the negative with the positive, one hopes. We shared outside of our community and we bantered, again and more, within the community. For my own blog, I only accomplished 20 for 21 this year instead of 31 for 21. But I am very thankful to Big Blueberry Eyes for the challenge and the host. Well Played!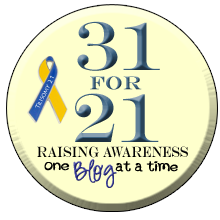 It's Down Syndrome Awareness Month, and there are a few folks who have helped me to learn what it is to be an advocate. So I'm going to talk today about another blogger who is also not from 'round here, proving yet again how small our world can be. 
I found Down Wit Dat in my pre-I'm-a-blogger travels. I remember seeing the tagline: Our kid has more chromosomes than your kid… and I smiled. (In the beginning I saw this blog as a kind of
I'm breakin' the rules today. Yes, I'm a rebel to my own rule. I'm writing with plenty of loud, melancholy pop music playing in my headphones. I don't usually write with music that has words, cause well, words. But it's Free Write Friday and that means we're all about rule breaking. Ha! This melancholy music, and my favorite flavor coffee in hand, I'm surprisingly cheerful today.
I don't know if I've told you, but one of the reasons I do this whole Free Write
In September, Arguing Eugenics was noted a Tom Howard/John H. Reid Fiction & Essay Contest 2014 Finalist. Here's a snippet:
Fortunately, there are new easy to administer prenatal blood tests enabling doctors to diagnose with some certainty an unborn child with Down syndrome at only 10 weeks. This way the doctor knows to monitor the growing fetus so that appropriate pediatric specialists are on hand at the birth if there appears to be a risk. It also empowers the parents to prepare accordingly.

Or not.

Stephen Quake, a professor of